Bike Shipping Instructions
If you received a welcome packet from us via US Mail, UPS or FedEx
You should have everything you need to attach your shipping label

Luggage tags (Handle Wraps).
Shipping labels.
Zip ties.
If you received an e-mail shipping label
Since our time window was short you will be printing your own labels and "self-laminating" them with clear packing tape. This is to insure they do not fall off during transit.

Important: Once you have "self-laminated" the labels securely with tape, wrap an extra layer of tape across the top of the label and then punch a hole thru it no less then 1/2 inch from the top. In the hole insert a zip-tie and then wrap it around a luggage handle. If you are using a cardboard box simply tape the label to the box securely.
---
Attaching your shipping label to your bike case / box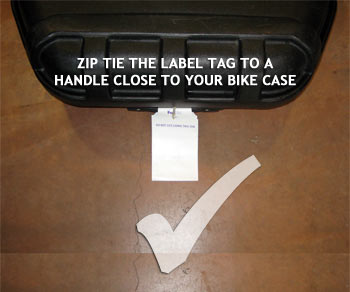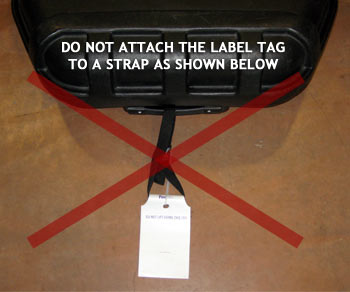 ---
About the pick up
HCS will be scheduling a pick up on the agreed upon date. If you are shipping via Ground we cannot specify an exact time. It will just be sometime during the day on the date of pick up. If you are shipping air we can schedule within a 3 hour window. Generally we schedule in the morning between 9am and 12pm. You can contact us if you need to change the time.

If you will not be home that day or need to leave. Please leave your item in a secure location where the driver can find it. If the location is not obvious please leave a note so the driver will be able to locate the items.

If the pick up does not occur as you expected please feel free to contact us. We will be watching to confirm the pick up occurs as well.
---
Pick up, Drop off and Storage of your Bike
Where do you pick up your bike once you arrive?
Your bike will be waiting for you at the address we shipped it to.

Where do you drop off your bike once your done?
We will be scheduling a pick up from the address you supplied to us on the pre-determined date. You should already have your return label. If you don't please contact us.

Where does the bike case or box get stored?
Your bike case or box will be stored at the address we shipped it to.
---
Please read the following in preparation for packing and shipping your bike



Special guidelines for Bike Shipping

Carbon frames.

We insure carbon frames but not for full replacement unless they are completely lost. If there is damage to your carbon frame we work with a company which specializes in carbon frame repair. Contrary to popular belief a carbon frame can be repaired.



Pedals.

Remove your pedals prior to shipping and take them with you. We are not responsible for lost pedals.



Helmets.

Take your helmet with you. It is not safe to ship your helmet. If the box were to take a hit where the helmet is at and compromise the helmet you may not know this. If you were to take a serious fall on your bike your helmet may not protect you as you might expect.



Loose items.

There should be no loose bike parts, screws, skewers,etc in the box. These items can potentially fall out while in transit.



Computers.

Remove them and take them with you.



Soft Cases.

We do not recommend packing your bike in soft cases.


Please note we do not insure bikes packed in soft cases.


General packing tips

Remove the pedals, seat/seatpost.
Remove road bike's front brake.
Release mountain-bike front brake cable.
Remove handlebars (or bars/stem).
Remove the front wheel and quick release.
Bag or box all removed small items.
Ensure parts and frame can't hit each other.
When packing a cardboard box, tie the parts to the bike.
If you're using a cardboard box, pack tape to seal the box on the return leg.
Carry cycling shoes, shorts and jersey in case/box.
Let some air out of your tires.
Bring a quality frame pump for tire repairs if your mini-pump won't reach optimum pressure.
Sleeping bags or soft clothing makes great padding and frees up room in other baggage.